Sustainability is a word that means different things to different people. What I think it means is good management and good corporate citizenship.
I talked last week with C.G. "Leib" Oehmig IV, the CEO of family-owned Glen Raven, one of the state's oldest textile firms, and I asked him how he talks about his company's three-year-old sustainability initiative to employees and shareholders. Here's what he said:
"I simply describe our efforts as desiring to have a positive impact on our global community by supporting the planet on which we live and the communities that we serve."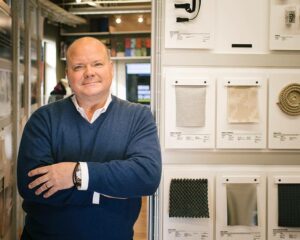 There is much that can be learned from Glen Raven. It survived globalization's beatdown of North Carolina's textile and apparel industry. It not only survived, but it has also grown. It learned how to sustain itself before it created a formal sustainability program.
The Burlington-based company was started as a cotton mill in 1880 by John Q. Gant, and for years, it produced yarn and fabric for the apparel market. In the 1980s, it began to focus more on fabrics for awnings and outdoor furniture.  Its Sunbrella line took off.  Today, Glen Raven fabrics are on boat tops and covers, indoor furniture, banners and handbags. Its products are used in construction projects around the world to stabilize soil, and in flame-resistant workwear.
The company has 3,000 employees in 23 countries, with around 1,100 in North Carolina.  It is expanding its flagship, million-square-foot plant in Anderson, S.C, and a North Carolina plant in Norlina, in Warren County, parts of the company's $250 million construction program that will increase production capabilities by more than 30%.
"If you know anything about Glen Raven, keeping a relatively low profile has been the way they operate," says Oehmig, "because they never felt like they had to go out and try to publicize the things that they do."
"They would just do them because in their minds, it was the right thing to do.  What has changed, is that we've seen over the last several years, with a new generation of shareholders, associates within our company, customers and consumers, that they really want to know. Our partners want to do business with people that they feel are aligned with their own values."
In 2019, Glen Raven started working with global consultant BSR, a leader in diversity, equity and inclusion consulting, to help guide the company's DEI journey. In many instances, sustainability is focused on climate initiatives — reducing a company's carbon footprint.  That's part of Glen Raven's program, but it is broader than that. Its goals flow from two broad objectives: 1) Supporting the company's employees and the communities in which it operates, and 2) Sustaining the planet.
Key goals in the first category include increasing leadership diversity and improving safety, a constant concern in a manufacturing environment.
One goal is to increase the number of women in first-line supervisory roles 25% by 2025. Last year, women made up 40%.
Well-run companies understand the strategic importance of diversity. You want the best talent, the smartest people in your management team. Glen Raven has established a new diversity, equity and inclusion team and has taken steps to develop an internal talent pipeline to support DEI goals. It has created new positions at plants to focus on this.
Building a more diverse leadership team — from the plant floor to the C-suite —  doesn't happen by itself. People need to be in charge of this, looking for talent and opportunities for them, so the actions by Glen Raven – setting goals and building a system — suggest seriousness. Earlier this year, for example, Glen Raven promoted Christine Mathews to senior vice president and chief financial officer.
"We want to drive a stake in the ground and be able to measure and hold ourselves accountable," says Oehmig. "How do we really create opportunity, not only for women but for diversity more broadly than that?"
In safety, Glen Raven performs better than key industry metrics, such as the all injury and illness rate AIIR) and the lost-time case rate (LTCR).  Its injury rate per 200,000 work hours was less than half the industry rate, and its lost-time case rate was around a third.
But, Oehmig says, safety was traditionally a "top down" program. The focus has shifted to employee ownership of safety, with training on how to recognize hazardous situations. "Not letting it be driven by leadership or, you know, plant management . . . but let the associates take it over, and let them hold each other accountable," he says.
Oehmig relates how he was visiting a plant, and he walked through an opening with a large roll-up door, for forklift traffic, instead of the designated pedestrian door.  "I had a young man get off a forklift and come over and put his hand on my shoulder, and he says, 'Next time, when you come through, please use the pedestrian door.' He said, 'I just want to make sure that we keep you safe when you're here.'"
"And the fact that I'm telling you that a couple of years later just is the impression that it made on me, that they take ownership of it," says Oehmig.
One sustainability goal is focused directly on communities in which Glen Raven operates on six continents. Last year, 12% of the company's employees volunteered. The goal is to encourage 100% to volunteer by 2025, particularly with an emphasis on early childhood development. Studies suggest that company volunteerism programs tend to boost employee morale, recharge workers and bring creative ideas back to the business.
Renewable energy
In reducing its carbon footprint, Glen Raven is joining a lot of companies motivated by a desire to meet customer and shareholder preferences and growing global climate policies.  In 20 years, reducing carbon emissions has become a mainstream business goal, particularly in larger, multinational corporations.
In 2019, Glen Raven was not powering its plants with any renewable energy. Last year, it reached 25%, and the goal is to get to 100% certified renewable energy by 2025. Becoming carbon-neutral – basically eliminating greenhouse gas emissions from energy consumed and manufacturing processes, directly or through carbon offsets — is the 2030 goal. So far it has reduced its carbon emissions by a third since 2019, largely using renewable energy certificates.
Glen Raven also has a focus on recycling, wanting to make sure that old or waste fabric stays out of landfills and gets reintroduced back into the manufacturing process. There are a couple of ways this happens. First, the waste that is generated in the weaving process — as edges are trimmed, for example – can be recycled into yarn. And Glen Raven promotes recycling through its customers — who make products out of its fabrics — and final consumers who buy the products.
"I think we've recycled more than a million pounds in total now," says Oehmig. "We publicized that first through our customers, many of whom are small fabricators." Despite the pandemic's disruptions, the company helped customers recycle more than 108,000 pounds of used Glen Raven fabric over the past two years. The goal of the new sustainability program is to recycle a million pounds by 2025 and use five times more recycled raw materials by then.
The market for Glen Raven's Sunbrella fabric continues to be strong. The company last week said that despite "record demand," it has significantly reduced lead times for shipments with the help of new yarn-spinning capabilities, new and upgraded weaving equipment and other capacity enhancements.
Dan Barkin
Today's Number: 24
That was the number of deaths from COVID in North Carolina in the week ended July 9. In the week ended last Jan. 29, the weekly number was 761.
It is harder to evaluate the spread of COVID by cases because there's a lot of home testing now. But deaths and hospitalizations, I think, are reliable metrics. In the week ended July 9, there was a daily average of 970 people hospitalized with COVID, compared with 5,049 in the Jan. 29 week. The problem is that the hospitalizations are ticking up. There was a daily average of 351 in mid-April. It may be a combination of things, like behaving COVID is over. New variants, like BA.5, pop up. As we go back to how we lived in 2019, COVID is still around.
Around 23% of adults haven't gotten even one shot in North Carolina, and these are almost all between 18 and 65, because nearly all seniors have gotten vaccinated at least once.
This is a good Q&A with infectious disease expert Dr. Peter Hotez. Here is some of what he says: "The Centers for Disease Control and Prevention put out data for May, and it clearly shows if you're over the age of 50, there's a big difference whether you're unvaccinated, partially vaccinated – meaning one to two doses – and vaccinated and boosted one time or two times. People are not dying if they're vaccinated and boosted times two. If you're not boosted, the risk for hospitalization goes up.
"What I'm telling people: The most impactful thing you can do to protect yourself and your family is to be mindful of your vaccine status. Take advantage of what's available. The next most important thing to do with the transmission going on indoors is to wear a mask. Boy, that's been a tough sell, though."
I've seen masks required in medical offices, and I was at an event in RTP recently where masks were worn. But I haven't seen masks in most places. I guess we'll see how much BA.5 spreads. My sense is we are going to have these ups and downs until they finish developing some universal COVID vaccine that can work on all variants, and until most everyone is vaccinated. Given that many folks are just not getting the vaccine, COVID may be around a long time.
With BA.5, which is the most transmissible variant in the COVID pandemic, being vaccinated or having been previously infected may not prevent a new infection but getting all the vaccine shots and boosters can keep you out of the hospital.