Larry Keen is retiring as president of Fayetteville Tech, the state's third-largest community college, effective Jan. 1. A search has started for his successor. 
Keen, 75, has run the school since 2007, a long time in college-president years. In the state's 58-school community college system, 36 presidents have been in their current job for around five years or less.  
But what is also remarkable is how closely Keen's story has paralleled the journey of the thousands of students at Fayetteville Tech. Community college students typically hold full-time and part-time jobs. They balance classes, work and family.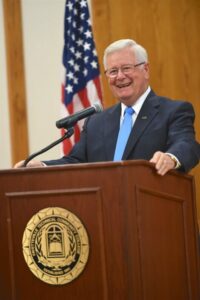 Keen knows what they are going through. He started out as a blue-collar guy who managed through drive and persistence to get from an associate degree to a doctorate, all while balancing classes, work and family. This is why he has spent his career helping folks climb the education ladder. 
I wanted to share his story before he retires because it isn't widely known. All folks see today is a successful, polished college administrator. But it could have ended up differently. Keen could have stayed in an Oklahoma tire plant. It would have been a decent living right up until the plant shut down in the mid-1980s.
Small, but he could hit
He came to Oklahoma in the 1960s for a shot at college football. He was an all-state middle linebacker in Gainesville, Fla., small-ish for major colleges and his grades weren't hot. To get to a big program like Florida State, he would have to prove himself at a two-year junior college. A lot of Florida high school players went to Northeastern Oklahoma A&M in Miami, a small mining town in the corner of the state where Oklahoma borders Kansas and Missouri. 
Keen learned many things in Miami that would shape his perspective as a college administrator. He learned that going to a college where folks knew your name was important. 
"I had coaches that would take me by the scruff of my neck and make sure I was in the right place at the right time. I was more than a number. They cared. And you got to know people. And the more you got to know them, they wanted to help you and you wanted to help them."
In the 1960s, Northeastern was known as the Notre Dame of junior colleges. In 1967, it won the junior college national championship against Lees-McRae of Banner Elk, a two-year school back then.
I watched film of the 1967 team. What stuck with me was the game against a California school, Taft. Northeastern needed to beat Taft to get into the national championship game, but the first half did not go well. Taft was leading and moving downfield. Taft had the ball at the Northeastern 20 and called a running play to the outside. Linebacker Keen — 5'9", 175 pounds, small but quick — dodged a blocker, grabbed the Taft runner's arm and caused a fumble. Northeastern recovered, tied the game and went on to win. Keen's play shifted the momentum and likely saved the game and the season. It happened because he didn't give up as the runner barreled past. 
Choices
In 1968, Keen graduated and married Vicki, a fellow student. (It will be 54 years next week). He had a choice to make: go somewhere full-time and finish his bachelor's degree in two years or work and go to school part-time. He decided to juggle work and school and give up football. He went with the largest employer in Miami, the B.F. Goodrich plant where 2,000 workers built tires. 
"I got the best education I could have ever gotten by working in that manufacturing facility," says Keen. What he learned was the importance of showing up, being consistent and dedicated, and how to work in teams. 
For the next five years, he commuted to Missouri Southern State College 30 miles away. Mornings, he'd drive to Joplin, Missouri. Then he would come home, sleep, study and go to the plant for the 11:30 p.m. shift. He would take a book for breaks.
"The place was just full of carbon black," a material used in tires. "And so over my career, when I've gotten a little discouraged … I'd go and open that book. I can still to this day smell the carbon black. Some of it would dribble out of the pages, and I'd say, 'Remember when?'"
A co-worker's words
A lot of college students in his position give up, and Keen almost did. His wife would walk to the plant to bring him sandwiches. As he watched her head back home one evening with their year-old son, "it really depressed me because I was not able to be with my family."
An older co-worker bucked him up. "He said, 'Larry, do you understand how many people are watching you? We're all cheering for you. We want you to do it for you but we want you to do it for us, too.'"
Adding on Army Reserve obligations (he served 21 years) stretched things out some, but by 1973 he had his bachelor's degree. He got a job teaching at Northeastern. They gave him three years to get his masters. So, when he wasn't teaching, he was at Pittsburg State University in Kansas, a 56-mile trip each way on a two-lane road.  He got his master's in 2 ½ years. 
Then it was on to a doctorate at Oklahoma State, which meant hitting the road again. He started out taking classes at the Tulsa branch and then at the main campus in Stillwater.  On a typical day,  Keen would finish teaching in Miami, and drive 176 miles to the university, then back that night. Which meant occasionally pulling off the road for a nap in the middle of nowhere, in the middle of the night. 
Today, Fayetteville Tech is one of the state's top online institutions among community colleges and universities. It matters that a president who wore out tires to get his own education understands the value of classes you can take at home. 
By 1985, he had his doctorate in higher education. A few years later, Keen was leading the effort to recruit businesses to Miami to help the area dig out from the closing of the tire plant.
He began building the record that would lead him to Fayetteville. He served as director of high school and college relations for Oklahoma State, where he helped students find ways to pay for their education. Then he worked in the state office that oversaw workforce training, as shifts in the economy required new skills. That brought him to the attention of North Carolina. In 2002, he was hired by the community college system to be vice president of economic and workforce development.  
In 2007, he succeeded Larry Norris, who had been president of Fayetteville Tech for a decade. When Keen took over, the state was going through a wrenching transformation as blue-collar textile, furniture and tobacco manufacturing jobs were disappearing, job losses compounded by the Great Recession. Unemployment in Cumberland County climbed to more than 12% in the summer of 2012. Today, the rate is 5.5%. The challenge now is to supply the demand for workers, everything from technology to nursing to truck driving programs.  
"We had a student graduated here in the last few weeks and he started at $115,000," says Keen.  This is not surprising. The feds like Fayetteville Tech's IT programs. The National Security Agency and the Department of Homeland Security have designated the school as a Center of Academic Excellence in Cyber Defense Two-Year Education. The college is a Red Hat Academy; the company has given it three awards in the last two years.
Enrollment challenges
These are challenging times for community colleges. The pandemic depressed enrollment. Then the rebounding job market made it easier for people to find work, rather than go to school. Student headcount in the 2020-21 school year was 27,288, down 18.6% from 2018-19. Fayetteville Tech hasn't been standing still. Like other community colleges around the state, it has been working to bring folks with some college back to school. 
The college occupies more than a million square feet in nine locations in Cumberland, including on Fort Bragg, teaching soldiers and family members on the Army's largest base. Keen estimates that 15-20% of his students are military, and Fayetteville Tech consistently scores high in military-friendly rankings.
Fayetteville Tech is unique in one respect. "We're the only funeral service program in the entire state of North Carolina," says Keen.  After Keen took the job, he got a tour from Norris that included the embalming lab. "I'll tell you what, my knees got a little wobbly."
The college is building a $40 million fire and rescue training center that will feature the state's only swift water facility, to simulate river and flood scenarios. The school is also building a new truck driving track on part of about 60 acres it acquired 14 years ago for a western campus.
"We received $10 million this year, and with logistics being a major element of what we do in the southeastern part of the state, we're creating an advanced driving track." Right now, the track on campus is about 300 feet long. The new one will be 900 by 600 feet. The market for truck drivers is hot.
Another high-demand area is nursing. Fayetteville Tech's program has expanded into a childcare center closed by the pandemic, with patient simulation rooms complete with the kinds of equipment you would find in a hospital or long-term care facility.
Shaking the hands
One part of the job Keen cherishes has been graduating his students. He understands the significance, going back to his own journey. 
"I have the privilege of shaking almost every hand that comes across the stage when they graduate, and to see in their eyes and their demeanor . . . and know that this is a benchmark point in their life. And in many cases, it might be the benchmark moment in the life of an entire family. Those are special things. We made the difference in the life of a person."
"There's nothing more important than what we do," says Keen.  "I know multimillionaires that have told me they wish they had the fulfillment in their lives that we enjoy in education. We need to remind ourselves of that periodically."